Description
Specifications
Intel 1.44 GHz processor 32Bit
Windows 10 Home
4G Ram & 64G EMMC memory
2.0M front camera & 5.0M Rear camera
Long Range BlueTooth V4.0
802.11 b/g/n/ac Dual band WiFi (2.4G / 5.8G)
U-Blox GPS engine
1 USB2.0 port
1 Micro USB port
1 SIM card slot
 NO SERIAL PORT!** (see our exclusive BlueTooth adapter below)
Built-in LiOn battery  (Estimated run time with BRx7 Rover up to 8hrs depending upon settings)
How does it compare:
The nearly $1200.00 lower cost ($1600.00 if you consider the built-in U-Blox GPS engine) is possible with the following differences in specifications.
Not as Bright or Rugged as the RT4 Tablet but just as capable when bundled with Carlson SurvPC.
Drop ANY Tablet screen down on a rock and the screen will break. These tablets come from China and are NOT considered serviceable. CSS offers a low cost replacement option for damaged units. Ask for details.
Lighter weight and a larger screen make it easy to handle and use. We find the touch screen easier to use than most W10 tablets.
Weather resistant with the port covers properly closed.
Built-in battery is not field replaceable like the RT4. We will stock replacement Batteries and chargers. Our service department will handle Battery replacement.
**Connect to old Topcon Total Stations that require a cable with our Exclusive Bluetooth Adapter.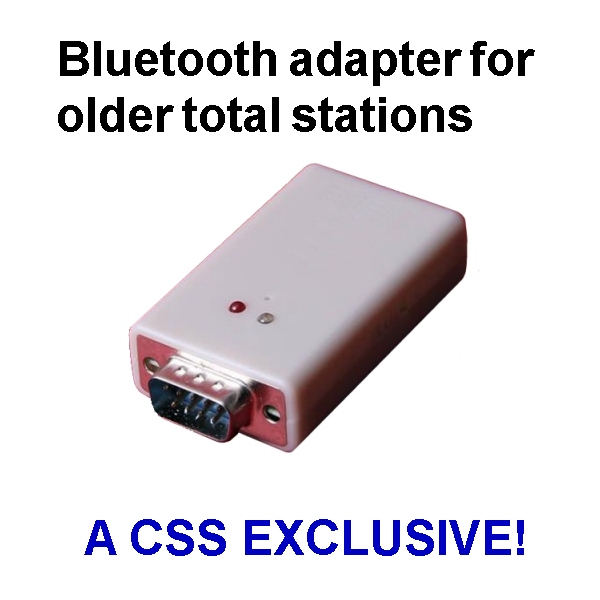 Pole mount options, click here.