$269.95
SECO Pole Clamp Assembly for Carlson RT3 / RT4
Complete pole clamp assembly for the Carlson RT3 /RT4 Windows Tablet. Includes RAM Ball and Socket joint which allows easy adjustment of position for best viewing angle. Clamps onto 1″ – 1-1/4″ Dia. Poles.
Also fits Juniper Mesa2 and Topcon FC5000.
NOTE: Seco Pole Clamp is NOT compatible with the RT3/RT4 Attachable Keyboard.
Click here for the Carlson Pole clamp assembly.
Click here for our Tripod Adapter mount.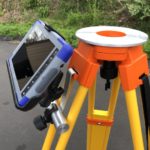 4 in stock (can be backordered)